This second and final part of the CGj review of ACRU 2023 highlights the key trends that should be on the watch list of companies and governance professionals in the year ahead.
The Institute's ACRU 2023 provided a unique opportunity to hear from the six regulators participating in this year's forum on the issues at the top of the governance agenda in Hong Kong. There was no shortage of issues to discuss and this article highlights the key takeaways from the day's discussions.
Hong Kong's evolving ESG regime
1. International developments
Hong Kong's evolving ESG regime, in particular the proposed mandatory requirement for climate disclosures, was jointly addressed by speakers from the Securities and Futures Commission (SFC) and Hong Kong Exchanges and Clearing Ltd (HKEX). Michael Duignan, Executive Director, Corporate Finance Division, SFC, launched this discussion, updating ACRU participants on the developments that have been driving tougher ESG performance and reporting requirements globally. 
The most significant development in this space has been the move towards harmonised global standards for sustainability disclosures. Companies around the world are currently using a plethora of different standards for their reporting on climate and sustainability issues. Indeed, the Task Force on Climate-related Financial Disclosures (TCFD) estimates that there are over 400 different standards in use and it produced the first prototype – in the form of the TCFD Recommendations – of a harmonised global baseline for sustainability disclosures.
In November 2021, a new standard-setting body – the International Sustainability Standards Board (ISSB) – was launched. It has subsequently released exposure drafts of its proposed standards, building on the TCFD Recommendations, and the finalised standards are expected to be published imminently.
Regulators in Hong Kong have announced their commitment to align Hong Kong's local regulatory regime with the ISSB standards and Mr Duignan highlighted some of the key requirements companies in Hong Kong should be preparing for. These include a requirement for companies to disclose their Scope 3 greenhouse gas (GHG) emissions, and to use climate-related scenario analysis in their reporting. 
Mr Duignan also reminded ACRU participants that ESG and sustainability should not be regarded solely as a compliance issue. 'If you treat this like a compliance exercise, you'll produce useless information,' he said. 
He also strongly urged companies to get assurance for the metrics and targets disclosed. He pointed out that investors and other stakeholders are looking for reliable data, rather than lofty rhetoric. Indeed, greenwashing is increasingly recognised as a serious compliance and reputational risk for companies. A company announcing that it plans to be carbon neutral by 2025 might think it is sending the right message to stakeholders, Mr Duignan said, but issuing such a statement alone, without actually disclosing how the company intends to go about achieving carbon neutrality, is likely to send exactly the opposite message.
'Now, I plan to be a multi-billionaire by next year,' Mr Duignan quipped. 'But if I tell you that that involves me winning every lottery being held in every country in the world over the next 12 months, you can make your own judgement as to how likely that outcome is going to be.' 
2. What will this mean for companies in Hong Kong?
Kelly Lee, Senior Vice-President, Policy and Secretariat Services, Listing Division, HKEX, focused her presentation on HKEX's latest initiative to align Hong Kong's ESG regulatory regime with the international standards discussed above. Currently, the climate-related disclosure requirements of the Listing Rules are on a 'comply or explain' basis, but a public consultation just released by HKEX proposes to make them mandatory. Moreover, HKEX is proposing additional requirements to align with ISSB standards.
Like Mr Duignan, Ms Lee emphasised that this exercise should not be about compliance alone. Compliance with the rules is a basic minimum, but the focus should be on the significant benefits to be gained from better transparency in ESG and sustainability matters. 
'This is not about compliance – it is about communication. This is about how you tell your investors, your stakeholders and the market about your company and its operations, about the risks that you're facing and your actions in response to those risks,' she said.
She also reminded listeners that the HKEX ESG Academy (available on the HKEX website: www.hkex.com.hk) is a good resource for companies and governance professionals on ESG issues. She also offered a summary of her tips for listed companies in their ESG journeys (See Tips for Issuers).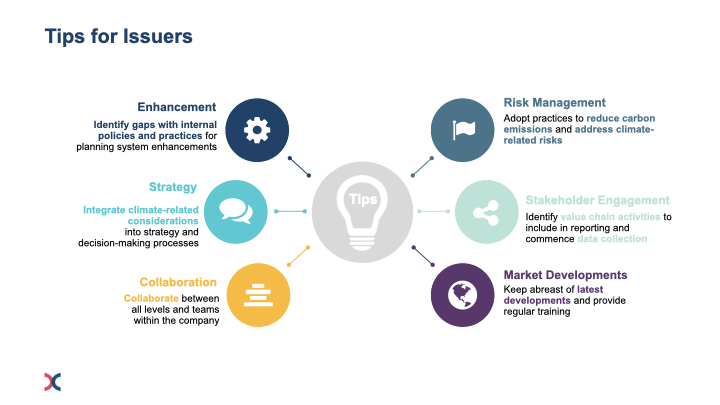 These tips included a reminder of the need to stay tuned to the latest ESG developments. 'Developments in the ESG space are moving really quickly and everyone is learning, including the regulators. So you have to stay tuned to the latest developments and identify any gaps with your internal policies and practices, and to assess whether any further upgrades are necessary,' Ms Lee said. 
Key governance takeaways
ACRU 2023 provided regulators with an opportunity to give guidance on how companies can upgrade their governance standards. As with previous ACRU forums, one of the key governance themes was the crucial importance of building and maintaining effective internal controls. 
'Company directors have the responsibility to put in place an effective internal control system to ensure compliance with applicable legal and regulatory requirements, and to prevent, detect and correct any corporate fraud or misconduct,' said Kenneth Luk, Senior Director, Enforcement Division, SFC.
He added that without the right culture, even the best internal control system can fail. 'Good corporate governance starts from the top and the board of directors needs to emphasise ethical values and integrity. It needs to foster a culture of honesty and zero tolerance for fraudulent behaviour,' he said.
Both HKEX and SFC speakers also took the opportunity of ACRU 2023 to remind listeners that enforcement activity has been on the rise for some time in Hong Kong and shows no sign of slowing down. The number of director sanctions HKEX has been issuing, for example, has continued at a high level over the last year. On average, about three directors are sanctioned each week in Hong Kong.
'In our investigations, we work out who is responsible for breaches of the Listing Rules and this ties in with outcomes,' said Jon Witts, Head of Enforcement, Listing Division, HKEX. 'For me, the outcomes against people are far more important than the outcomes against companies because it's people that drive change,' he said.
Moreover, technology continues to improve the efficiency of regulatory investigations. Mr Luk pointed out, for example, that the SFC has its automated process for obtaining and analysing bank records up and running. Local banks are already submitting bank statements to the SFC via its proprietary online e-submission platform. These bank statements are then converted into structured data using AI. 
Last year, the SFC also rolled out the last phase of its project to develop a tool that will automatically identify certain predefined suspicious fund flow patterns – helping investigators to analyse movements of funds much more quickly than before. 
Corporate law and practice
In the afternoon session of ACRU 2023, three speakers from the Companies Registry (CR) highlighted recent developments in corporate law and practice. The first speaker, Mandy Lam, Senior Solicitor (Legal Services), Companies Registry, discussed Hong Kong's new statutory regime for holding general meetings. 
With effect from 28 April this year (2023), the Hong Kong Companies Ordinance (CO) and Companies (Model Articles) Notice were amended to facilitate the holding of general meetings by using virtual meeting technology (VMT). Ms Lam pointed out that the use of VMT has significant advantages, particularly in terms of improving shareholder access to general meetings. She added that many jurisdictions around the world have introduced legislation allowing companies to hold fully virtual or hybrid general meetings.
She highlighted the key amendments to the CO that enable companies to hold general meetings by using VMT unless their Articles of Association expressly precludes its use, or require such meetings to be held at a physical location. She urged ACRU participants to consult the Guidance Note issued by the CR – Good Practice on Holding Virtual or Hybrid General Meetings – to familiarise themselves with Hong Kong's new meetings regime. 
Wren Wu, Deputy Registry Manager (Development), Companies Registry, was the second speaker in the CR session. He addressed, among other things, the implementation of the new Unique Business Identifier (UBI) regime, and the CR's latest IT upgrade – the revamp of the Integrated Companies Registry Information System (ICRIS).
With implementation of the UBI regime, legal entities can be uniquely identified with a unique number in different types of transaction. UBIs have been adopted in many other jurisdictions to reduce possible identification errors, facilitate data sharing and reduce administrative burdens. For the legal entities in Hong Kong, the Business Registration Number (that is, the first eight digits of the Business Certificate number) assigned by the Business Registration Office of the Inland Revenue Department will be adopted as the UBI. To sustain Hong Kong's leading position as an international financial centre, the CR undertakes to implement UBIs for entities under its administration in two phases. Phase One was implemented for Limited Partnership Funds (LPFs) with effect from 1 November 2021. Phase Two, which will cover limited companies and other types of entities, will be implemented simultaneously with the launch of the Registry's revamped ICRIS on 27 December 2023.
Mr Wu also highlighted the design features of the revamped ICRIS, which will replace all existing CR information systems. His colleague, Fanny Lam, Deputy Registry Manager (Public Search), Companies Registry, gave further details on the new search services and the new services under Phase 3 of the New Inspection Regime that will become available on the launch of the revamped ICRIS.
SIDEBAR: Promoting Hong Kong: recent government initiatives
The afternoon session of ACRU 2023 concluded with two speakers who updated participants on the many government initiatives to boost Hong Kong's competitiveness as an international financial centre.
Developing Hong Kong as a FinTech hub
'As a financial centre, Hong Kong cannot afford to lose sight of FinTech development,' said Joseph Chan JP, Under Secretary for Financial Services and the Treasury, the HKSAR Government. Mr Chan was the first of two government speakers to address ACRU 2023 and he focused his presentation on the crucial role that FinTech will play in Hong Kong's future. 
'The development of FinTech is going to replace or displace many traditional products and services, but in return it will create a lot of new products and services. So if we want to protect our market share, or even grow our market share further, we have to do FinTech right,' he said. 
Mr Chan outlined some of the measures the government has implemented to develop FinTech in Hong Kong. Its FinTech Proof-of-Concept Subsidy Scheme, for example, aims to encourage financial institutions to partner with FinTech companies in developing innovative financial services products. 'We hope these subsidies will provide the resources for companies to test new ideas that will eventually be put to commercial use,' Mr Chan said. 
Mr Chan also mentioned the launch of Hong Kong's new licensing regime for Virtual Asset Service Providers (VASPs) as a step forward in ensuring that VASPs are subject to appropriate supervision. The regime, which was implemented in June 2023, imposes capital adequacy requirements on VASPs and requires them to put measures in place to avoid a conflict of interests, such as segregating client assets and trading activities from their own. They are also required to submit their annual reports to the SFC, which has been established as the relevant regulator with the authority to investigate any suspicious activities on VASP trading platforms. 
'We believe that by putting in place a very comprehensive regulatory regime we can help develop the virtual asset business in a responsible and sustainable manner. This will also boost investors' confidence in this sector as well,' Mr Chan said.  
Hong Kong's evolving tax regime
The second government speaker to address ACRU 2023 was Benjamin Chan Sze-wai JP, Deputy Commissioner of Inland Revenue (Technical), Inland Revenue Department. He addressed another issue that Hong Kong cannot afford to ignore if it wants to continue to thrive as an IFC in the years ahead – taxation.
'As you may well be aware, tax issues have become increasingly high on the government agenda,' Mr Chan said. He focused his presentation on how Hong Kong's tax regime is evolving in response to international tax reform initiatives. In particular, he updated ACRU participants on the new foreign-sourced income exemption (FSIE) regime. On 1 January this year (2023), the Inland Revenue (Amendment) (Taxation on Specified Foreign-sourced Income) Ordinance 2022 came into operation, whereby specified foreign-sourced income received in Hong Kong by multinational enterprise (MNE) entities will be regarded as arising in or derived from Hong Kong and chargeable to profits tax.
This reform was a response to the EU placing Hong Kong on its watchlist of non-cooperative jurisdictions for tax purposes. The FSIE regime seeks to address the EU's concerns that MNE entities without substantial economic substance in Hong Kong would exploit Hong Kong's territorial tax system to achieve 'double non-taxation' of specified foreign-sourced income. 
Mr Chan also discussed the Inland Revenue (Amendment) (Tax Concessions for Family-owned Investment Holding Vehicles) Ordinance 2023, which came into operation on 19 May 2023 to provide profits tax concessions for eligible family-owned investment holding vehicles (FIHVs) managed by eligible single family offices in Hong Kong (the Family Office regime). The Family Office regime is intended to create a competitive environment for global family offices to set up in Hong Kong. The concessionary profits tax rate for the assessable profits of an FIHV earned from qualifying transactions and incidental transactions for a year of assessment commencing on or after 1 April 2022 is 0%.